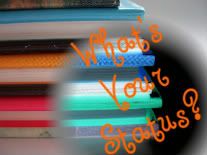 This post was inspired by, well, my previous Reading Status posts. I wanted to make it something that everyone could particpate in. Every Saturday (and sometimes Sunday), I will post
what I've finished in the past week, what I'm currently reading and where I am in the book/s, what I plan to read next, and possibly what I want to buy/get
. I will be trying to do this every week, so be sure to check back every weekend! Be sure to leave your links to your WYS posts in the comments.
This next portion of the post is an idea that I saw on the wonderful blog
Small Review
. She posts what reviews and memes she has posted and participated in that last week. Remember, however, that it is not mandatory for you to do this part of the post.
Today is the last day to sign up for the WYS contest! Here is a schedule for the participants that have already signed up. If there are any problems with these dates, please let me know!
JUNE 11- MARCIE (2 Read or Not 2 Read)
JUNE 18- MARLA (Starting the Next Chapter)
JUNE 25- JESSICA (Thoughts at One in the Morning)
JULY 2- CAT (Cat's Thoughts)
Things You Don't Wanna Miss:
~
What's Your Status: CONTEST!
(Please read this post if you are participating in WYS; thanks!)
~
Interview with Cyndi Tefft!
Reviews this week:
~
The Dead Girls' Dance, by Rachel Caine
~
City of Fallen Angels, by Cassandra Clare
~
Between, by Cyndi Tefft
Memes this week:
~
Music Monday
~
Teaser Tuesday
~
Waiting on Wednesday
~
Thursday Interpretation & Library Unveiled
~
Book Blogger Hop & Fun Friday
Now, for my status! (Please keep in mind that you do not have to use this exact format. Whatever works for you is what works for me.)
Finished This Week:
1. Nothing this week; working on it :)
Currently Reading:
1. Before I Fall by Lauren Oliver.
On page 227.
Don't think I've read it that much this week.
2. Kea's Flight by Erika Hammerschmidt & John C. Ricker.
On page 72.
I might have to just drop this one for a while. Because I really have to get some others finished...
3. The Lens and the Looker by Lory S. Kaufman.
On page 17.
Read a few pages in it, but am planning to pick it up this week and next!
4. 13 Little Blue Envelopes by Maureen Johnson.
Have read 3%.
Might have to drop this one, too; lots of book tours and things going on right now!
5. Flesh and Bones by Paul Levine.
On page 29.
This book is pretty interesting so far. Lots of vocab that I have to look up while reading, but I'm enjoying it. :)
Next On My TBR (To Be Read) Pile:
1. Clarity by Kim Harrington
2. The Blood That Defines Us by Majanka Verstraete
What I Would Like To Buy Next:
~Blood Magic by Tessa Gratton (for blogoversary giveaway; ahh!!)
Don't forget to post the link to your WYS post in the comments!