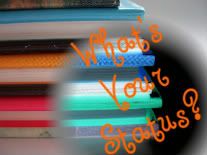 This post was inspired by, well, my previous Reading Status posts. I wanted to make it something that everyone could particpate in. Every Saturday (and sometimes Sunday), I will post
what I've finished in the past week, what I'm currently reading and where I am in the book/s, what I plan to read next, and possibly what I want to buy/get
. I will be trying to do this every week, so be sure to check back every weekend! Be sure to leave your links to your WYS posts in the comments.
This next portion of the post is an idea that I saw on the wonderful blog
Small Review
. She posts what reviews and memes she has posted and participated in that last week. Remember, however, that it is not mandatory for you to do this part of the post.
Things You Don't Wanna Miss:
~
Things You Don't Wanna Miss #2!
Reviews this week:
~
Beastly, by Alex Flinn
~
I Am Number Four (movie)
~
Hate List, by Jennifer Brown
Memes this week:
~
In My Mailbox & Sunday Confessions
~
Music Monday
~
Teaser Tuesday
~
Waiting on Wednesday
~
Thursday Interpretation & Library Unveiled
~
Book Blogger Hop & Fun Friday
Now, for my status! (Please keep in mind that you do not have to use this exact format. Whatever works for you is what works for me.)
Finished This Week:
1. Clarity (Clarity, #1) by Kim Harrington.
Finished on 7/6/2011.
Loved this novel! It was really intriguing, and I breezed through it!
2. Falling Under (Falling Under, #1) by Gwen Hayes.
Finished on 9/6/2011.
Loved this novel as well! I'm really rackin it up with the debuts this year :)
Currently Reading:
1. Before I Fall by Lauren Oliver.
On page 227.
Didn't get a chance to read this one this week, but am going to try to next week!
2. The Lipstick Laws by Amy Holder.
On page 75.
This is a really good novel so far. Again with the debuts! Haha; this novel has made me laugh a lot so far :)
3. Fallen by Lauren Kate.
Have read 25%.
Reading this via
OnRead.com
, but I'm really loving it so far. The page numbers are all jacked up, though, because the spacing is just awful, so I'm on like page 237; LOL.
Next On My TBR (To Be Read) Pile:
1. Divergent by Veronica Roth
What I Would Like To Buy Next:
~Cloaked by Alex Flinn
Don't forget to leave the link to your WYS post in the comments!
________________________________________________________________________
And now...
As a kick-off for the 1st Annual What's Your Status? Contest, Marcie from
To Read or Not To Read
will be co-hosting with me today! We have interviewed each other, and here is my half of the interview. Click
HERE
to go to Marcie's post!!!!
1. Let's start from the beginning, shall we? What got you interested in reading?
I can't remember a time that I didn't love to read. So I guess I would say that my parents love of reading was passed on to me.
2. What made you want to start blogging?
I wanted a place where I could express my thoughts about the books I read.
3. What's your favorite food in the whole world?
My favorite food is guacamole. I can't seem to resist eating it.
4. How did you decide on your blog's name? I've honestly always wondered.
To Read or Not To Read is a question I ask myself whenever I pick up a book.
5. What would you say is your favrite word in the dictionary?
serendipity
6. How long have you had your blog?
A little over a year ago. I started my blog in April of 2010.
7. Who are some of your favorite authors, young adult and otherwise?
Jane Austen because I've loved her books for so long.
J.K. Rowling because I'm reading the Harry Potter books for the first time and loving them!
Gail Carriger because I love her sense of humor.
8. If you had to choose between a party and super-old rerun marathons, you would choose . . . ?
I like going to parties but I think I would choose super-old rerun marathons. Especially if it was Buffy.
9. The first word that comes to mind when you hear/read the word "gumbo" would be . . . ?
tasty
10. Do you have a favorite book/series?
My favorite book is Persuasion by Jane Austen. I absolutely love the characters in the novel. Plus the letter that Captain Wentworth writes Anne is so beautiful.
11. Lastly, but not least, can you give us a few ways to keep up with what's happening on your blog?
You can follow my blog through GFC by clicking the follow button on my blog.
http://www.2readornot2read.com/
Twitter:
http://twitter.com/#!/2readornot2read
Facebook:
http://www.facebook.com/pages/To-Read-or-Not-To-Read/141895542501126
Thanks, Marcie, for co-hosting with me this Saturday!!
Join us next week as Marla from
Starting the Next Chapter
joins us!!