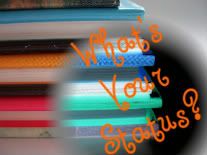 This post was inspired by, well, my previous Reading Status posts. I wanted to make it something that everyone could particpate in. Every Saturday (and sometimes Sunday), I will post
what I've finished in the past week, what I'm currently reading and where I am in the book/s, what I plan to read next, and possibly what I want to buy/get
. I will be trying to do this every week, so be sure to check back every weekend! Be sure to leave your links to your WYS posts in the comments.
This next portion of the post is an idea that I saw on the wonderful blog
Small Review
. She posts what reviews and memes she has posted and participated in that last week. Remember, however, that it is not mandatory for you to do this part of the post.
Things You Don't Wanna Miss:
~
Gues post by Majanka Verstraete & My First-ever Giveaway!!!!
~
Giveaways Galore!
Reviews this week:
~
Wither, by Lauren DeStefano
Memes this week:
~
In My Mailbox & Sunday Confessions
~
Music Monday
~
Teaser Tuesday
~
Waiting on Wednesday
~
Thursday Interpretation & Library Unveiled
~
Book Blogger Hop & Fun Friday
Now, for my status! (Please keep in mind that you do not have to use this exact format. Whatever works for you is what works for me.)
Finished This Week:
1. The Lipstick Laws by Amy Holder.
Finished on 11/6/2011.
I breezed through this book! Wish it had a sequel! :D
2. Divergent (Divergent, #1) by Veronica Roth.
Finished on 15/6/2011.
This book was ahmazing! I love how she divded everything up into factions, and from there everything was just wonderful. Can't wait till the release of
Insurgent
!!
3. Wild Child by Mike Wells.
Finished on 16/6/2011.
I loved this book; I believe it was only a sample, but that's okay. The way they cut it, you still understand everything perfectly.
Currently Reading:
1. Before I Fall by Lauren Oliver.
On page 227.
I know what you're thinking: she's never gonna finish this book! I know, I'm starting to think the same thing...
2. The Lens and the Looker by Lory S. Kaufman.
On page 37.
This book is really good so far; it's super interesting. Hopefully I can finish it soon!
3. Fallen by Lauren Kate.
Have read 25%.
Haven't read any of this in the past week; but I'm going to get on it. So tired of books sitting up and not being read!
4. Cloaked by Alex Flinn.
Have read 3%.
Loved
Beastly
, so I quickly bought this one :)
Next On My TBR (To Be Read) Pile:
1. The Bronze and the Brimstone by Lory S. Kaufman
What I Would Like To Buy Next:
~A Kiss in Time by Alex Flinn
~Shadowland by Alyson Noel
Don't forget to leave the link to your WYS post in the comments!
________________________________________________________________________
And now...
To continue with the 1st Annual What's Your Status? Contest, Marla over at
Starting the Next Chapter
will be co-hosting with me today! We also decided to interview each other, and my half of the interview is below :). Click
HERE
to go to Marcie's post!!!!
1. How exactly did your love for reading start?
My parents had a great deal to do with that. They wanted me to be an early reader, so my mom and my dad worked on the alphabet and sounding out words super early. It paid off, as I read my first book all by myself at age 4. It was very exciting for me and I've been hooked ever since.
2. What made you want to start a blog?
I had already been blogging for almost 9 years (I started started out on Livejournal and then started a Blogger blog when I found out I was pregnant with my daughter almost 3 years ago), but never thought to start one about books until I took the Goodreads poll about whether or not I had a book blog. It was the light bulb moment that made me start Starting the Next Chapter.
3. Most people's favorite colour is either red or blue. Might I guess that yours isn't?
You would be right. I actually have two. I love emerald green and purple. Most of my shirts are those colors. It's a good thing they work for me since I'm a redhead!
4. Who are your top three authors of all-time?
Jane Austen, Nora Roberts, and J.K. Rowling
5. What are some of your favorite hobbies besides the obvious one?
I love bird watching. I also love to bake. The most fun is experimenting with cupcakes. My most recent was pumpkin spice white chip cupcakes with orange buttercream. They were delicious!
6. If you weren't interested in books, do you think you'd blog about something else?
It may be cheating, but I already have. I've had blogs about cooking, living in South Korea, and pregnancy/motherhood.
7. Do you have a favorite word in the dictionary?
Hmmm. That's a good question. I really like the word, "surreptitious." I don't get to use that word nearly often enough, but I try to slip it into sentences when I can.
8. Do yo find vibrant colours beautiful or too bright for the eyes?
It really depends on the color. Bright pink or blue I can handle. Bright yellow, however, hurts my eyes and leaves me seeing spots for several minutes afterward.
9. How long have you had your blog?
As of June 22 I Starting the Next Chapter will have been in existence for 4 months!
10. Your favorite day to blog on?
My favorite blogging day is Tuesday. That is when I prepare my Waiting on Wednesday post and start prepping my weekend meme posts. I love thinking about what book I want to write about next for WoW and I also love taking a closer look at my reading week.
11. What's your favorite month of the year? Favorite season?
My favorite month is definitely October. This is because my favorite season is fall and that's the month that fall really starts settling in in Tennessee.
12. How can my followers and I keep up with you and your blog?
You can follow me on Twitter (MarlaSTNC), Goodreads (startingthenextchapter), Networked Blogs (widget is right under my GFC widget in the left-hand column), or Facebook (Starting the Next Chapter). You can also find my Feedburner link under the "Where to Find Me" heading in the left column.
Thanks so much for being on the blog today, Marla!
All you readers, make sure you join me next week when I welcome Jessica (
Thoughts at One in the Morning
) tto Butterfly Feet!!!
I hope you're keeping up with whose blog you love the most! The poll to vote will start July 3rd!!