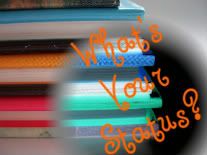 This post was inspired by, well, my previous Reading Status posts. I wanted to make it something that everyone could particpate in. Every Saturday (and sometimes Sunday), I will post
what I've finished in the past week, what I'm currently reading and where I am in the book/s, what I plan to read next, and possibly what I want to buy/get
. I will be trying to do this every week, so be sure to check back every weekend! Be sure to leave your links to your WYS posts in the comments.
This next portion of the post is an idea that I saw on the wonderful blog
Small Review
. She posts what reviews and memes she has posted and participated in that last week. Remember, however, that it is not mandatory for you to do this part of the post.
NOTICE: For the entire month of August, Marla @ Starting the Next Chapter will host WYS as her contest prize! :D I'll have a link to Marla's posts every week, so no worries.
Things You Don't Wanna Miss:
~
Giveaway!!!!! (Closes on July 30th!)
**Last day to enter!!!!!**
Reviews this week:
~
Before I Fall by Lauren Oliver
~
Night World: Voluime 2 by LJ Smith
Memes this week:
~
Music Monday
~
Teaser Tuesday
~
Waiting on Wednesday
Now, for my status! (Please keep in mind that you do not have to use this exact format. Whatever works for you is what works for me.)
Finished This Week:
1. none.
Currently Reading:
1. Graceling by Kristin Cashore.
On page 255.
Rereading this one for a challenge on GoodReads (when am I
not
reading for a challenge?). Also rereading it so that I can start on
Fire
soon :)
2. Tower of Parlen Min by Matt Xell.
Have read 39%.
Kind of taking a break from this one so that I can focus on a few challenge books, but I will still continue reading it. My main focus is challenge books, but this one won't be left behind!
On Hold at "My Bookshelf":**
1. Fallen by Lauren Kate; page 163.
2. The Lens and the Looker by Lory S Kaufman; page 127.
3. Cloaked by Alex Flinn; 39%.
Next On My TBR (To Be Read) Pile:
1. Beautiful Creatures by Kami Garcia & Margaret Stohl
What I Would Like To Buy Next:
~
The Girl Who Played with Fire
by Stieg Larsson
Don't forget to leave the link to your WYS post in the comments!

** This new feature is a place for the books on my shelf that I'm kind of reading, but at the same time, they have been moved to the side so that I can focus on others.