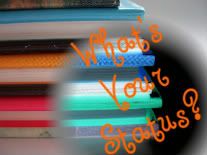 This post was inspired by, well, my previous Reading Status posts. I wanted to make it something that everyone could particpate in. Every Saturday (and sometimes Sunday), I will post
what I've finished in the past week, what I'm currently reading and where I am in the book/s, what I plan to read next, and possibly what I want to buy/get
. I will be trying to do this every week, so be sure to check back every weekend! Be sure to leave your links to your WYS posts in the comments.
This next portion of the post is an idea that I saw on the wonderful blog
Small Review
. She posts what reviews and memes she has posted and participated in that last week. Remember, however, that it is not mandatory for you to do this part of the post.
Things You Don't Wanna Miss:
~
Giveaway!!!!! (Closes on July 30th!)
(Update about the giveaway
HERE
) **There's only one week left to sign up! Make sure you get all your entries in!!!**
Reviews this week:
~
The Devil's Arithmetic by Jane Yolen
Memes this week:
~
Music Monday
~
Teaser Tuesday
~
Waiting on Wednesday
~
Thursday Interpretation & Library Unveiled
Now, for my status! (Please keep in mind that you do not have to use this exact format. Whatever works for you is what works for me.)
Finished This Week:
1. Night World: Volume 2 (Night World, #4-6) by LJ Smith.
Finished on 21/7/2011.
I reread this for quite a few challenges on GoodReads. This one is my second favorite of the omnibuses :D.
Currently Reading:
1. Fallen by Lauren Kate.
On page 163.
Didn't get a chance to focus on this one some more. My goal over the next couple of weeks will be to incoporate this one in just a smidge :)
2. Cloaked by Alex Flinn.
Have read 39%.
This is getting pretty bad. "Bad" as in I haven't read it in FOREVER. :(
3. The Lens and the Looker by Lory S Kaufman.
On page 127.
This one is definitely turning into another Before I Fall. I'll have to do something about that ASAP...
4. Tower of Parlen Min by Matt Xell.
Have read 10%.
This book is super awesome! I am read interested so far, so I'm sure that I will be finishing it quickly :p
Next On My TBR (To Be Read) Pile:
1. Reborn by Ley Mesina
2. The Girl With the Dragon Tattoo by Stieg Larsson
What I Would Like To Buy Next:
~
The Girl Who Played with Fire
&
The Girl Who Kicked the Hornet's Nest
by Steig Larsson
~Torment by Lauren Kate
~TTYL by Lauren Myracle (?)
Don't forget to leave the link to your WYS post in the comments!
Also, the winner of the 1st Annual WYS Contest is......*drumroll*........
Marla @ Starting the Next Chapter
CONGRATULATIONS, Marla!!!!!! I'll be emailing you soon to get some dates together for you to host WYS for a few weeks. Should be in your mailbox in a few minutes :).
Congratulations again, and thanks to everyone who participated!!! Happy Reading :D