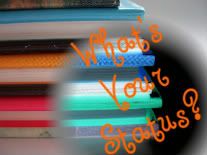 This post was inspired by, well, my previous Reading Status posts. I wanted to make it something that everyone could particpate in. Every Saturday (and sometimes Sunday), I will post
what I've finished in the past week, what I'm currently reading and where I am in the book/s, what I plan to read next, and possibly what I want to buy/get
. I will be trying to do this every week, so be sure to check back every weekend! Be sure to leave your links to your WYS posts in the comments.
This next portion of the post is an idea that I saw on the wonderful blog
Small Review
. She posts what reviews and memes she has posted and participated in that last week. Remember, however, that it is not mandatory for you to do this part of the post.
Things You Don't Wanna Miss:
~
Giveaways Galore!
Reviews this week:
~none
Memes this week:
~none
Now, for my status! (Please keep in mind that you do not have to use this exact format. Whatever works for you is what works for me.)
Finished This Week:
1. none
Currently Reading:
1. Before I Fall by Lauren Oliver.
On page 227.
"Maybe I'll get 3 pages read this week... That's all I'm asking for: 3 pages." Remember that? Yeah, well.... It didn't happen /:
2. The Lens and the Looker by Lory S. Kaufman.
On page 113.
I read more of this in the last week. It's starting to get a little interesting now :)
3. Fallen by Lauren Kate.
Have read 27%.
Read about 2% in it this week; not a lot, but progress!
4. Cloaked by Alex Flinn.
Have read 23%.
Read more this week; can't wait till the kid leaves off on his mission :D
5. Sweep: Volume 1 by Cate Tiernan.
On page 5.
Haven't read any this week I don't think, but hopefully I will get to it a lot more in the next week or so.
Next On My TBR (To Be Read) Pile:
1. The Bronze and the Brimstone by Lory S. Kaufman
2. The 19 Dragons by SM Reine
What I Would Like To Buy Next:
~anything! LOL
Don't forget to leave the link to your WYS post in the comments!
________________________________________________________________________
And now...
To continue with the 1st Annual What's Your Status? Contest, Cat over at
Cat's Thoughts
will be co-hosting with me today! We also decided to interview each other, and my half of the interview is below :). Click
HERE
to go to Cat's post!!!!
1. What made you want to start a book blog?
I wanted to blog more and I needed something to talk about! It honestly wasn't on purpose, a friend of mine pointed me to a couple of book blogs and I was like "oh, people will read a blog about books! I'm gonna go write about books!"
2. Have you ever had a blog about another topic? If not, would you want to start one?
I actually started my blog as just a general life thing to keep my friends and family in the loop. And then I got bored and stopped writing in it for a while, and then picked it back up and started talking about books. I tend to do a mix of things on my blog, it's not exclusively books, because there's no way I could possibly find the time to maintain another blog.
3. What's your favoritest color ever?
Lime green! Closely followed by neon pink. But lime green rocks.
4. Your favorite number?
Pi. Because it's irrational, LOL
5. Who is your favorite author of Young Adult fiction?
Oh gosh, how to choose?! I would have to say probably... Orson Scott Card. I know he's a crossover author, but I looooove his books!
6. What genre have you been into the most as of late?
A switch between YA and general literature. Depends on the day and what I need to read on a deadline. Oh, and dystopian has been a big thing for me lately too... Can you tell I'm a bit eclectic?
7. Can you give us your top three recommendations for books that you've read this year?
Divergent (Veronica Roth), If I Stay (Gayle Foreman), Sing You Home (Jodi Picoult)
8. How long have you had your blog?
Since September 2004, so gosh, it's been almost seven years! Crazy!
9. How can my followers and I keep in touch with you and your blog?
GoodReads
,
Twitter
(these are links!)
Thanks so much for being on the blog today, Cat!
I hope you're kept up with whose blog you love the most! The poll to vote is up now!!! (Top right of the far sidebar under "Story Progress.") The poll closes on
July 16th
!
Don't forget to come back tomorrow and all next week for my 1st Annual Blogoversary Celebration!!!!!! And yes, there will be a giveaway!!!!