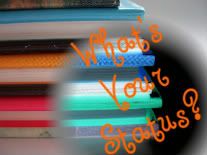 This post was inspired by, well, my previous Reading Status posts. I wanted to make it something that everyone could particpate in. Every Saturday (and sometimes Sunday), I will post
what I've finished in the past week, what I'm currently reading and where I am in the book/s, what I plan to read next, and possibly what I want to buy/get
. I will be trying to do this every week, so be sure to check back every weekend! Be sure to leave your links to your WYS posts in the comments.
This next portion of the post is an idea that I saw on the wonderful blog
Small Review
. She posts what reviews and memes she has posted and participated in that last week. Remember, however, that it is not mandatory for you to do this part of the post.
Things You Don't Wanna Miss:
~WYS Poll (It's at the top right of the page under "Story Progress". Ends on the 16th!)
~
Interview w/Carrie Harris
~
Giveaway!!!!! (Closes on July 30th!)
Reviews this week:
~
Blood Magic by Tessa Gratton
~
Clarity by Kim Harrington
~
Falling Under by Gwen Hayes
~
The Lipstick Laws by Amy Holder
~
Divergent by Veronica Roth
~
Wild Child by Mike Wells
Memes this week:
~
In My Mailbox
Now, for my status! (Please keep in mind that you do not have to use this exact format. Whatever works for you is what works for me.)
Finished This Week:
1. The 19 Dragons by SM Reine.
Finished on 3/7/2011.
This novella was awesome! I'm super-anxious to read
Six Moon Summer
now!!
Currently Reading:
1. Before I Fall by Lauren Oliver.
On page 227.
Might actually get to it this week!
2. The Lens and the Looker by Lory S. Kaufman.
On page 135.
Read more of this :)
3. Fallen by Lauren Kate.
On page 124.
Finally bought an actual copy of this book. Will be reading it in the next week for sure!
4. Cloaked by Alex Flinn.
Have read 39%.
This is getting even better!
5. Her Dear and Loving Husband by Meredith Allard.
On page 86.
Started this one to try to get ahead on some book tours. It's really good so far! :)
Next On My TBR (To Be Read) Pile:
1. Tower of Parlen Min by Matt Xell
2. not really sure, though; so many to choose from! :)
What I Would Like To Buy Next:
~NOTHING. I made a personal goal to read all the books on my shelf and on my Kindle first. (Starting today, cuz I just got 5 more yesterday :) )
Don't forget to leave the link to your WYS post in the comments!