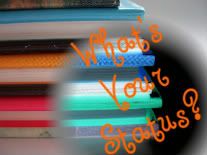 This post was inspired by, well, my previous Reading Status posts. I wanted to make it something that everyone could particpate in. Every Saturday (and sometimes Sunday), I will post
what I've finished in the past week, what I'm currently reading and where I am in the book/s, what I plan to read next, and possibly what I want to buy/get
. I will be trying to do this ever week, so be sure to check back every weekend! Be sure to enter your links to your WYS posts in the Linky Tool below. (The Linky Tools will always be left open on Sundays for those of you who can't post on Saturdays.)
This next portion of the post is an idea that I saw on the wonderful blog
Small Review
. She posts what reviews and memes she has posted and participated in that last week. Remember, however, that it is not mandatory for you to do this part of the post.
Things You Don't Wanna Miss:
Reviews this week:
~None, but two should be here soon!
Memes this week:
Now, for my status! (Please keep in mind that you do not have to use this exact format. Whatever works for you is what works for me.)
Finished This Week:
Evermore (Immortals, #1) by Alyson Noel (Kindle Edition). Finished on 1/1/2011. Loved this book! Good thing I already ahve the second one. I will be reading Blue Moon really soon!
Milkweed by Jerry Spinelli. Finished on 5/1/2011. This was the best Historical Fiction novel I've read in a while. Definitely recommend it if you like books that are set around World War II.
Currently Reading:
Speak by Laurie Halse Anderson. On page 139. This is SUCH a good book. Glad that I finally got the chance to read it. Hopefully I will be able to find the movie and watch it :).
Saving the World and Other Extreme Sports by James Patterson. On page 261. On Part 4 in this one. It's better than the previous two and I'm sure the next one will be even better! Lots more drama :)
Tyger Tyger by Kersten Hamilton. On page 45. Haven't read in about a week and a half, but should be farther next week.
Remember Me (series omnibus) by Christopher Pike. On page 652. Was able to read a little of the book this morning. Really hoping I have it done by February. Wish me luck!!
Next On My TBR (To Be Read) Pile:
City of Glass by Cassandra Clare AND
Dorris Bridge by Clive Riddle (received for review)
What I Would Like To Buy Next:
Choker by Elizabeth Woods AND
Across the Universe by Beth Revis
Don't Forget to post the link to your WYS post in the Linky Tool below!
For example:
Name: Butterfly Feet Walking on Books
URL: http://walkingbutterflyfeet.blogspot.com/whats-your-status-2011