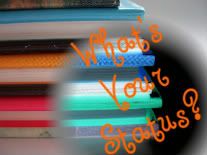 This post was inspired by, well, my previous Reading Status posts. I wanted to make it something that everyone could particpate in. Every Saturday (and sometimes Sunday), I will post
what I've finished in the past week, what I'm currently reading and where I am in the book/s, what I plan to read next, and possibly what I want to buy/get
. I will be trying to do this ever week, so be sure to check back every weekend! Be sure to enter your links to your WYS posts in the Linky Tool below. (The Linky Tools will always be left open on Sundays for those of you who can't post on Saturdays.)
This next portion of the post is an idea that I saw on the wonderful blog
Small Review
. She posts what reviews and memes she has posted and participated in that last week. Remember, however, that it is not mandatory for you to do this part of the post.
Reviews this week:
~None, unfortunately. There will be three or four this week, though :)
Now, for my status! (Please keep in mind that you do not have to use this exact format. Whatever works for you is what works for me.)
Finished This Week:
City of Glass (Mortal Instruments, #3) by Cassandra Clare. Finished on 26/1/2011. I absolutely LOVED this book! It is definitely my favorite in the series. However, I canNOT wait until I can get my hands on City of Fallen Angels, which is set to be released on April 5th!
Currently Reading:
Tyger Tyger by Kersten Hamilton. On page 140. Have gotten farther in this novel. Loving it!
Wicked by Sara Shepard. Have read 82%. Hoping to finish this one sometime this week; glad I bought the next one already :)
Dorris Bridge by Clive Riddle. On page 38. I read a little of this one this week, plan to read more today.
How to Say Goodbye in Robot by Natalie Standiford. On page 6. Started this one this morning. One of my late B-day presents from Leanne :)
Next On My TBR (To Be Read) Pile:
The Final Warning by James Patterson
Jane Eyre by Charlotte Bronte
What I Would Like To Buy Next:
Max & Fang by James Patterson
Crescendo by Becca Fitzpatrick
Don't Forget to post the link to your WYS post in the Linky Tool below!
For example:
Name: Butterfly Feet Walking on Books
URL: http://walkingbutterflyfeet.blogspot.com/whats-your-status-2011