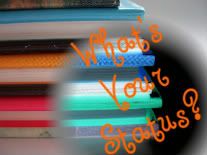 This post was inspired by, well, my previous Reading Status posts. I wanted to make it something that everyone could particpate in. Every Saturday (and sometimes Sunday), I will post
what I've finished in the past week, what I'm currently reading and where I am in the book/s, what I plan to read next, and possibly what I want to buy/get
. I will be trying to do this every week, so be sure to check back every weekend! Be sure to leave your links to your WYS posts in the comments.
This next portion of the post is an idea that I saw on the wonderful blog
Small Review
. She posts what reviews and memes she has posted and participated in that last week. Remember, however, that it is not mandatory for you to do this part of the post.
Today and next Sat. (June 4th) are the last days to sign up for WYS contest! Next week, there will be a schedule at the bottom of the post to make sure every participant has a date.
Things You Don't Wanna Miss:
~
What's Your Status: CONTEST!
(Please read this post if you are participating in WYS; thanks!)
Reviews this week:
~
Hush Hush, by Becca Fitzpatrick
Memes this week:
~
In My Mailbox & Sunday Confessions
~
Music Monday
~
Teaser Tuesday
~
Waiting on Wednesday
~
Thursday Interpretation & Library Unveiled
~
Book Blogger Hop & Fun Friday
Now, for my status! (Please keep in mind that you do not have to use this exact format. Whatever works for you is what works for me.)
Finished This Week:
1. Beastly by Alex Flinn.
Finished on 23/5/2011.
LOVED this novel! I am already planning to read
Cloaked
with one of my co-bloggers in late June :D.
2. Hate List by Jennifer Brown.
Finished on 24/5/2011.
I loved this novel as well! My BFF gave it to me in Nov as a bday present, and I'm so glad she did! Expect a review soon!
3. Wither (Chemical Garden trilogy, #1) by Lauren DeStefano.
Finished on 27/5/2011.
This novel left me absolutely speechless. I am SO anxious to get my hands on
Fever
! :D
Currently Reading:
1. Before I Fall by Lauren Oliver.
On page 107.
This was going to be the next book for me to accomplish during the read-a-thon, but it ended before I had a chance. I am still about to finish it, however :).
2. Kea's Flight by Erika Hammerschmidt & John C. Ricker.
On page 72.
Haven't read this one in a while. I will be starting back on it soon, though!
3. The Lens and the Looker by Lory S. Kaufman.
On page 12.
This one sadly sat unnoticed during the last week. My goal is to have it done within the next two weeks!
4. 13 Little Blue Envelopes by Maureen Johnson.
Have read 3%.
This is really eating me up! I've been wanting to read this book for so long, yet now that I own it, I can't find the time to read it. Maybe after I finish
BIF
and
TLatL
?
Next On My TBR (To Be Read) Pile:
1. Clarity by Kim Harrington
What I Would Like To Buy Next:
~Blood Magic by Tessa Gratton (for blogoversary giveaway; ahh!!)
Don't forget to post the link to your WYS post in the comments!