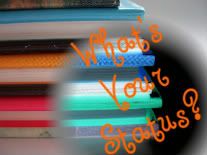 This post was inspired by, well, my previous Reading Status posts. I wanted to make it something that everyone could particpate in. Every Saturday (and sometimes Sunday), I will post
what I've finished in the past week, what I'm currently reading and where I am in the book/s, what I plan to read next, and possibly what I want to buy/get
. I will be trying to do this every week, so be sure to check back every weekend! Be sure to leave your links to your WYS posts in the comments.
This next portion of the post is an idea that I saw on the wonderful blog
Small Review
. She posts what reviews and memes she has posted and participated in that last week. Remember, however, that it is not mandatory for you to do this part of the post.
Things You Don't Wanna Miss:
~
What's Your Status: CONTEST!
(Please read this post if you are participating in WYS; thanks!)
Reviews this week:
~
Glass Houses, by Rachel Caine
~
The Night My Life Changed Forever, by Sara Lisowski
Memes this week:
~
In My Mailbox & Sunday Confessions
~
Music Monday
~
Teaser Tuesday
~
Waiting on Wednesday
~
Book Blogger Hop
Now, for my status! (Please keep in mind that you do not have to use this exact format. Whatever works for you is what works for me.)
Finished This Week:
1. City of Fallen Angels (Mortal Instruments, #4) by Cassandra Clare.
Finished on 11/5/2011.
I borrowed this from one of my bestest friends. It was really awesome. I wasn't disappointed with Clare's latest addition to the MI series.
2. Between (Between, #1) by Cyndi Tefft.
Finished on 17/5/2011.
This one was a review request by Cyndi. I LOVED it! The review wont be up until early June, but it's definitely worth the wait :).
Currently Reading:
1. Before I Fall by Lauren Oliver.
On page 105.
Since there's a week-long read-a-thon that starts in exactly two hours for me, I will be getting done with this one in the next week :).
2. Beautiful Creatures by Kami Garcia & Margaret Stohl.
On page 8.
I haven't really gotten into this one yet, but that read-a-thon will def help!
3. The Lens and the Looker by Lory S. Kaufman.
On page 12.
This one's an ARC for an upcoming book tour. Trying to get it out of the way :).
4. 13 Little Blue Envelopes by Maureen Johnson.
Have read 3%.
This is really only the first page, but Kindle Editions are like that :). Have heard several good things about this book!
5. Hate List by Jennifer Brown.
On page 53.
Hopefully I can finish this one this week as well!
Next On My TBR (To Be Read) Pile:
1. The Bronze and the Brimstone by Lory S. Kaufman (ARC)
What I Would Like To Buy Next:
~books for my blogoversary celebration (ahh!!)
Don't forget to post the link to your WYS post in the comments!