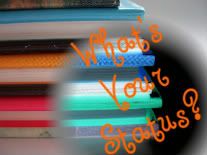 This post was inspired by, well, my previous Reading Status posts. I wanted to make it something that everyone could particpate in. Every Saturday (and sometimes Sunday), I will post
what I've finished in the past week, what I'm currently reading and where I am in the book/s, what I plan to read next, and possibly what I want to buy/get
. I will be trying to do this ever week, so be sure to check back every weekend! Be sure to enter your links to your WYS posts in the Linky below. (The Linkys will always be left open on Sundays for those of you who can't post on Saturdays.)
This next portion of the post is an idea that I saw on the wonderful blog
Small Review
. She posts what reviews and memes she has posted and participated in that last week. Remember, however, that it is not mandatory for you to do this part of the post.
Reviews this week:
~
Killer, by Sara Shepard
Memes this week:
~
Music/ Movie Monday, Teaser Tuesday, Warm-up Wednesday, & Thursday Interpretation
Now, for my status! (Please keep in mind that you do not have to use this exact format. Whatever works for you is what works for me.)
Finished This Week:
1. Deadly Little Secret (Touch, #1) by Laurie Faria Stolarz.
Finished on 11/3/2011.
I really loved this novel! I breezed through it on Leanne's iPod, and I hope that she will buy the next one soon! :D
Currently Reading:
1. Clockwork Angel by Cassandra Clare.
Have read 34%.
I am really liking this book right now. So far, my favorite charrie is Henry because he is always interested in stuff that he should just leave be :).
2. Jane Eyre by Charlotte Bronte.
Have read 31%.
This book is slow, but steady. I have GOT to find some more time to read it.
3. Pride and Prejudice by Jane Austen (Audiobook).
On chapter 35.
This novel is getting really good. Hoping to finish it soon to start on another audiobook.
4. Dead Until Dark by Charlaine Harris.
On page 13.
My friend Diana got this from the library and loved it, so I'm borrowing it for one week to read it. So far it's pretty interesting! :D
5. Flavors by Emily Sue Harvey.
On page 49.
This book is more just rambling around in a somewhat-chronological order, than an actual story; however, I find the characters, like Grandma Melton, really interesting to read about :).
6. Harry Potter and the Sorcerer's Stone by JK Rowling.
On page 140.
Haven't read this book in about a week, but I will have to step on it!
Next On My TBR (To Be Read) Pile:
1. A Tale of Two Cities by Charles Dickens
2. Left to Tell by Immaculee Ilibagiza
What I Would Like To Buy Next:
~Not sure; pretty strange, huh? I always have something here.
Don't forget to post the link to your WYS post in the InLinkz below!