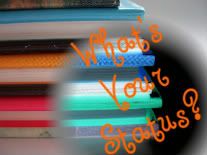 This post was inspired by, well, my previous Reading Status posts. I wanted to make it something that everyone could particpate in. Every Saturday (and sometimes Sunday), I will post
what I've finished in the past week, what I'm currently reading and where I am in the book/s, what I plan to read next, and possibly what I want to buy/get
. I will be trying to do this ever week, so be sure to check back every weekend! Be sure to enter your links to your WYS posts in the Linky Tool below. (The Linky Tools will always be left open on Sundays for those of you who can't post on Saturdays.)
This next portion of the post is an idea that I saw on the wonderful blog
Small Review
. She posts what reviews and memes she has posted and participated in that last week. Remember, however, that it is not mandatory for you to do this part of the post.
Now, for my status! (Please keep in mind that you do not have to use this exact format. Whatever works for you is what works for me.)
Finished This Week:
Nothing, but I'm working on lots.
Currently Reading:
Clockwork Angel by Cassandra Clare. Have read 0%. Haven't exactly started this one yet; it's for a BuddyRead.
I Am Number Four by Pittacus Lore. Have read 69%. This novel is SOO good! I can't wait until I have time to go and see the movie :).
Tyger Tyger by Kersten Hamilton. On page 150. Have been super-busy this week, and didn't have very much time on the computer, so haven't read in this since last week.
Killer by Sara Shepard. Have read 65%. This novel is so darn good. Better than Wicked, I think.
Dorris Bridge by Clive Riddle. On page 114. Again, haven't read a lot of this in the past week.
Jane Eyre by Charlotte Bronte. Have read 19%. I think I'm at chapter 11? Somewhere around there. Interesting classic, really.
Next On My TBR (To Be Read) Pile:
Reasons on My Wrist by Racaneya
What I Would Like To Buy Next:
3-in-1 audiobook (Pride and Prejudice, Emma, and Persuasion)
All-American Girl by Meg Cabot
Don't Forget to post the link to your WYS post with the InLinkz below!
For example:
URL: http://walkingbutterflyfeet.blogspot.com/whats-your-status-2011
Name: Butterfly Feet Walking on Books