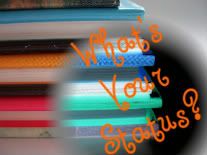 This post was inspired by, well, my previous Reading Status posts. I wanted to make it something that everyone could particpate in. Every Saturday (and sometimes Sunday), I will post
what I've finished in the past week, what I'm currently reading and where I am in the book/s, what I plan to read next, and possibly what I want to buy/get
. I will be trying to do this every week, so be sure to check back every weekend! Be sure to leave your links to your WYS posts in the comments.
This next portion of the post is an idea that I saw on the wonderful blog
Small Review
. She posts what reviews and memes she has posted and participated in that last week. Remember, however, that it is not mandatory for you to do this part of the post.
Things You Don't Wanna Miss:
~
OMPPL March 2012 Readathon Summary
Reviews this week:
~None, but there will be a couple next week!

Memes this week:
~None.

Finished This Week:
1. The Fault in Our Stars by John Green.
Finished on 18/3/2012.
2. To Kill a Mockingbird by Harper Lee.
Finished on 19/3/2012.
3. Tunnels of Blood (Cirque Du Freak, #3) by Darren Shan.
Finished on 19/3/2012.
4. The Hunger Games (The Hunger Games, #1) by Suzanne Collins.
Finished on 23/3/2012.
Currently Reading:
1. Sapphique by Catherine Fisher.
On page 109.
2. Ordinary Wisdom by K. Blue.
On page 7.
3. The Historian by Elizabeth Kostova (audio).
On chapter 5.
4. Death by Chocolate by Lucy Swing, etc.
Have read 1%.
5. The Night My Life Changed Forever by Sara Lisowski.
Have read 2%.
Next On My TBR (To Be Read) Pile:
1. The Clique by Lisi Harrison. Purpose: challenges.
What I Would Like To Buy Next:
~
Paper Town
by John Green
Don't forget to leave the link to your WYS post in the comments!