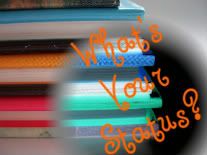 This post was inspired by, well, my previous Reading Status posts. I wanted to make it something that everyone could particpate in. Every Saturday (and sometimes Sunday), I will post
what I've finished in the past week, what I'm currently reading and where I am in the book/s, what I plan to read next, and possibly what I want to buy/get
. I will be trying to do this every week, so be sure to check back every weekend! Be sure to leave your links to your WYS posts in the comments.
This next portion of the post is an idea that I saw on the wonderful blog
Small Review
. She posts what reviews and memes she has posted and participated in that last week. Remember, however, that it is not mandatory for you to do this part of the post.
**I'm wayy too tired to do a vlog this week...**
Things You Don't Wanna Miss:
~nothing right now :)



Reviews this week:


~Beautiful Creatures, Kami Garcia & Margaret Stohl

Memes this week:
~In My Mailbox


Finished This Week:
1. This Lullaby by Sarah Dessen.
Finished on 10/9/2011.
Loved this novel! Can't wait to start Just Listen!
2. Midnight Alley (Morganville Vampires, #3) by Rachel Caine.
Finished on 11/9/2011.
Loved this as well! I can't believe it's taken me this long to continue this series :)
Currently Reading:
1. The Girl With the Dragon Tattoo by Stieg Larsson.
On page 327.
Loving this book! It's now getting to the part where I never want to put it down :D
Next On My TBR (To Be Read) Pile:
1. The Nine Lives of Chloe King (series omnibus) by Liz Braswell
2. Just Listen by Sarah Dessen
What I Would Like To Buy Next:
~not sure . . .
Don't forget to leave the link to your WYS post in the comments!