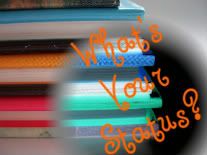 This post was inspired by, well, my previous Reading Status posts. I wanted to make it something that everyone could particpate in. Every Saturday (and sometimes Sunday), I will post
what I've finished in the past week, what I'm currently reading and where I am in the book/s, what I plan to read next, and possibly what I want to buy/get
. I will be trying to do this every week, so be sure to check back every weekend! Be sure to leave your links to your WYS posts in the comments.
This next portion of the post is an idea that I saw on the wonderful blog
Small Review
. She posts what reviews and memes she has posted and participated in that last week. Remember, however, that it is not mandatory for you to do this part of the post.
**Forgot about the vlog again. Grrrr.**
Things You Don't Wanna Miss:
~Nothing right now.
Reviews this week:
~None :(

Memes this week:
~None.


Finished This Week:
1. Black Moon (Moon trilogy, #1) by CL Bevill.
Finished on 21/1/2012.
2. Amber Moon (Moon trilogy, #2) by CL Bevill.
Finished on 23/1/2012.
3. The Vampire's Assistant (Cirque Du Freak, #2) by Darren Shan.
Finished on 26/1/2012.
4. Silver Moon (Moon trilogy, #3) by CL Bevill.
Finished on 27/1/2012.
Currently Reading:
1. Clockwork Prince by Cassandra Clare.
Have read 72%.
2. Great Expectations by Charles Dickens.
On page 171.
3. Incarceron by Catherine Fisher.
On page 1.
Next On My TBR (To Be Read) Pile:
1. Holes by Louis Sachar. Purpose: challenges.
2. Revolution by Jennifer Donnelly. Purpose: challenges & leisure.
What I Would Like To Buy Next:
~Well, it didn't last too long... But at least I can use the books for the 12x12! :)
Don't forget to leave the link to your WYS post in the comments!