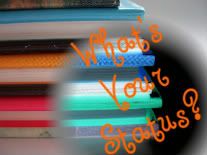 This post was inspired by, well, my previous Reading Status posts. I wanted to make it something that everyone could particpate in. Every Saturday (and sometimes Sunday), I will post
what I've finished in the past week, what I'm currently reading and where I am in the book/s, what I plan to read next, and possibly what I want to buy/get
. I will be trying to do this every week, so be sure to check back every weekend! Be sure to leave your links to your WYS posts in the comments.
This next portion of the post is an idea that I saw on the wonderful blog
Small Review
. She posts what reviews and memes she has posted and participated in that last week. Remember, however, that it is not mandatory for you to do this part of the post.
**Please be aware that for the next few weeks, Marcie @
To Read or Not To Read
will be hosting WYS for me. She will begin hosting on April 23rd.**
Things You Don't Wanna Miss:
~
Interview with Emily Sue Harvey
Reviews this week:
~
Flavors, by Emily Sue Harvey
Now, for my status! (Please keep in mind that you do not have to use this exact format. Whatever works for you is what works for me.)
Finished This Week:
1. Heist Society (Heist Society, #1) by Ally Carter.
Finished on 12/4/2011.
I loved this novel! I was BuddyReading it with Destiny (
Green Lillipads
), and we should have a double review up soon! :P
Currently Reading:
1. Jane Eyre by Charlotte Bronte.
Have read 47%.
Feeling like a failure on this novel now. Determined to finish it this month!
2. Harry Potter and the Sorcerer's Stone by JK Rowling.
On page 230.
Can you believe I left it at school yesterday?!
3. A Tale of Two Cities by Charles Dickens.
Have read 1%.
I am turning into a super-epic failure. Really gotta get back around to reading this!
4. Before I Fall by Lauren Oliver.
On page 105.
Leanne is letting me borrow it, since this is one of the books I gave her for her bday. It's good so far. Haven't read any since last week, though.
5. Hate List by Jennifer Brown.
On page 1
. Just started this yesterday; interesting so far; BuddyReading it with Leanne. :)
6. Hush, Hush by Becca Fitzpatrick.
On page 77.
This book is really engaging so far!
Next On My TBR (To Be Read) Pile:
1. Max by James Patterson
What I Would Like To Buy Next:
~City of Fallen Angels by Cassandra Clare (ahh!!)
Don't forget to post the link to your WYS post in the comments!